Spring Lawn Cleanup: 6 Expert Tips For a Vibrant Landscape
Early spring is the best time to give your landscape a good spring lawn cleanup. When you start thinking about spring cleaning as warmer weather approaches, don't overlook your lawn.
The beginning of spring is a great time to take stock of your yard and the condition of your landscape areas after a long winter.
We rarely experience snow and freezing temperatures in Southern California. But, we do have high winds, rain, and colder temperatures during the winter months.
That means a good spring lawn cleanup is just as necessary in Malibu, CA, as well as the Los Angeles area.
If you've neglected regular lawn care during the winter months, you may notice a build-up of debris.
You may notice dead plants, dead leaves, dead branches, and other dead foliage throughout your yard. There also may be areas of dead grass, bare spots, or bare patches on your lawn.
Whether it's for your personal home, an HOA, or commercial properties, there's no better time  to prepare for the upcoming season with a good spring lawn cleanup.
Here are just a few ways to get a jump start on your spring landscape maintenance with a full spring lawn cleanup.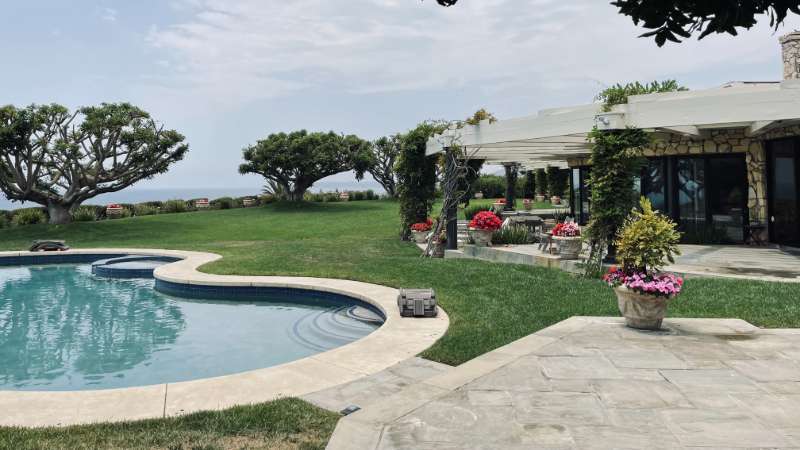 First Step to a Spring Lawn Cleanup: Clear Away Debris 
First things first with your spring lawn cleanup—tackle the debris, dead wood, and organic matter that may be hanging around from last fall and winter season.
Inclement weather from the previous year scatters an assortment of leaf litter, organic material, and trash that has blown in.
Download a free green waste disposal guide here.
Keep in mind it's important to wait until your grass is dry before cleaning up your lawn. Power raking over wet grass may uproot or damage your lawn.
Take Care Of Patchy Grass When Doing A Spring Lawn Cleanup
Once you've cleaned up the debris from your yard, you may notice that the grass looks brown and patchy.
An essential part of a thorough spring lawn cleanup and landscape cleanup is making sure your grass is healthy.
The start of the season is also an ideal time to perform lawn aeration as part of your spring yard maintenance plan.
It may also be necessary to spread new grass seed in areas where the grass has completely withered (this is called overseeding).
As part of your spring lawn cleanup, we also recommend inspecting the sprinkler system this time of year as it's a good time to make sure everything is working properly.
By putting in some extra work on your landscape maintenance early in the spring season, you'll enjoy a lush green lawn.
Plus you'll have flourishing plant beds, and blooming perennial beds by late spring and throughout the growing season.
Pruning Is An Important Part of a Spring Lawn Cleanup
Pruning is the best thing you can give your trees and shrubs in your spring yard cleanup. It may seem counterproductive to snip away at growth.
But, doing so is a great way to achieve healthy greenery with full and even growth.
As a general rule of thumb, look for areas where trees and small shrubs may have been damaged by rain, wind, or frost.
Next, trim shrubs until you can see leaf buds and "live" stems, which are usually greenish.
Avoid using an electric pruner as you want to make precise and targeted cuts when pruning.
One of the biggest mistakes most people make is over-pruning in some areas while under-pruning in others. This is another reason to avoid the use of electric shapers.
Instead, we recommend pruning by hand with a quality pair of pruning shears. It's essential to know how and where to cut to avoid making a mess of your tree, shrub, or hedge.
It can take at least a year for shrubbery to grow back consistently, so take your time or seek the advice of a professional landscaper when pruning your trees and shrubs.
Take Notice Of Preferred Pruning Heights
When it comes to landscape cleanup, every element has different needs, especially when pruning. Don't approach every element of your yard with the same mindset and cut everything at once at the same height.
Here are a few examples: Ornamental grasses should be cut to roughly two inches tall. We recommend tying the tops of the grasses and then snipping to achieve an even cut.
For semi-woody perennials, cut them to about four inches tall. Flowering trees such as roses should be trimmed of their damaged and dead stems before they bloom in the summer.
If you have an intricate landscape with a variety of plant elements, it can be overwhelming and time-consuming to care for everything properly.
Malibu Nursery & Landscaping provides complete landscape clean up and landscape maintenance services for our clients in the Malibu, CA area.
Remember The Garden Bed During A Spring Lawn Cleanup
Part of the next steps to a good spring cleanup is taking care of the garden beds. Garden beds are one of the main focal points of your landscaping. That's why it's important to get your garden beds off to a good start as part of your outdoor spring cleanup.
By doing so, you'll make sure your cleanup yields the results you want – a fantastic-looking, healthy, and vibrant garden!
Start by removing any dead annuals or perennials that have run their course. Next, prune or trim any shrubs or bushes that are touching your home or building.
If you're thinking about moving around any plants into a different arrangement, now's the time to put that plan into action.
Finish up your garden bed cleanup by raking up any leaves or other organic waste that's clogging the remaining live plants.
After your beds are clean and you're happy with where your plants are located, you can add new flower beds as needed. You'll also want to add a fresh layer of topsoil and mulch the beds with fresh mulch at the base of your plants.
Make sure to add a layer of mulch around the bed lines to achieve a clean edge and uniform appearance. Once you've completed all of these steps, your beds will be off to a great start for beautiful spring growth.
Spring Cleanup For Stones and Patio
Stones, patios, and hardscaping areas also need attention during springtime landscape maintenance. It's a good idea to power wash or use an outdoor cleaner these areas.
This will clean away built-up stains and grime that may have collected on concrete, pavers, or decks.
It's also a good idea to paint any wood that's exposed to the outdoors and needs repainting such as decks, fences, and railings. This prevents rotting or aging the wood before its time.
Sweep in any loose gravel that's escaped from the gaps between your patio stones and replace it if needed. Another method to fill in any potential tripping hazards or gaps is to use polymeric sand.
After filling, lightly water the gaps with a hose, let it set, and the sand will harden. This prevents weed growth in between the stones and helps with pest control as insects can make burrows in gapped areas.
Spring cleanup is a great investment in your property and is the perfect time to prepare for the fast-approaching summer months.
Malibu Nursery & Landscaping can tailor our landscape spring clean-up services to your property and upcoming summer plans. Give us a call, we'll get your property looking its absolute best.
If your property could use some care and attention after the winter months, give us a call at 805-905-1112. Or, fill out our contact form and we'll get back to you right away.
We'll provide you with an estimate to get your property back into a manageable state so it looks fantastic this summer.