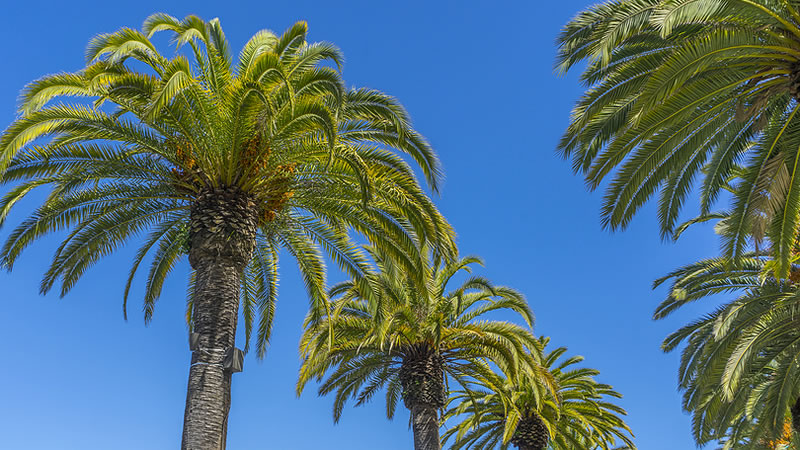 We Help Keep Your California Palm Trees Healthy and Looking Their Best
Palm trees are the heart of the quintessential California landscape. To keep your palms beautiful and healthy, you must be willing to take good care of them. During the early stages of growth your palm tree must have enough water, the correct nutrients (in the right amounts), and you need to watch for any pests or diseases.
Many homeowners or property managers do not know the exact amount of water, fertilizer, or nutrients that palm trees need to keep them healthy and beautiful. At Malibu Nursery & Landscaping, we have palm tree care down to a science!
Malibu Nursery & Landscaping is a landscape maintenance company based out of Malibu and serving the surrounding areas of Calabasas, Agoura Hills and Westlake Village. We specialize in comprehensive palm tree care and maintenance.  In fact, we're more than just a maintenance company. We're your landscaping health professionals with years of experience caring for our customers' palm trees.
Palm Tree Care & Maintenance Services We Provide:
Palm tree disease diagnosis and treatment
Palm tree insect and pest control
Palm tree fertilizing and correcting nutrient deficiencies.
Diagnosis & Treatment Of Palm Diseases
Palm trees can be affected by several issues that will slow or stop their growth and make then look unkempt and unhealthy. California Palm trees may suffer from multiple problems that require a specialist to diagnose and offer solutions before the tree goes beyond the point of saving. Some of the issues that may affect palm trees are: malnutrition, infestation of pests such as spiraling whiteflies, wind damage, and other diseases.
As palm tree doctors (yes, you could call us palm tree doctors), we use specialized, tried and true methods to treat palm trees distressed from disease.
Palm Tree Diseases We Diagnose & Treat:
Bud Rot of Palm
Pink Rot
Calonectria (Cylindrocladium) Leaf Spot of Palm
Fusarium Wilt of Canary Island Date Palm
Fusarium Wilt of Queen Palm and Mexican Fan Palm
Ganoderma Butt Rot of Palms
Graphiola Leaf Spot (False Smut) of Palm
Leaf Spots and Leaf Blights of Palm
Lethal Yellowing (LY) of Palm
Normal "Abnormalities" in Palms
Pestalotiopsis (Pestalotia) Diseases of Palm
Petiole (Rachis) Blight of Palm
Lethal Bronzing Disease (LBD)
Thielaviopsis Trunk Rot of Palm
For a complete list of Palm Tree diseases and treatments, view the University Of California Palm Tree Diseases Guide Here.
Palm Tree Pest & Insect Control
Insects and other pests can make life difficult for your palm trees. There are many varieties of insects that love to attack palm trees, and if you don't know what you're dealing with, you may never find a solution that actually works.  We can identify the various species of pests that can infest a palm tree. More importantly, we know what treatments will work best to eradicate the problem.
Palm Pest Problems We Treat:
Palm Aphids
Palm Leaf Skeletonizer
Mealybugs
Palmetto Weevil
Saddleback Caterpillar
Scale Insects
Spider Mites
Royal Palm Bug
Whiteflies
Palm Tree Fertilizing & Diagnosing Nutrient Deficiencies
When your palm tree lacks the proper nutrients in the proper amounts, it will begin looking different. The leaves will start changing color, and you may notice other unusual changes to the tree's appearance. For those who are not skilled in identifying the various nutrient problems with palm trees, it's not easy to know how to solve the problem. As professional palm care specialists, we will identify the nutrient problem with your palm tree and apply the right nutrients to feed your soil.
It is possible to continue adding nutrients incorrectly and have your palm tree still not looking the way you want. In that case, you may be adding the wrong nutrients in the wrong amounts. You may also have soil condition problems that will only worsen the situation.
Palm Trees Need THREE Basic Nutrients To Thrive
Nitrogen
Phosphorus
Potassium
Your palms also require many other trace nutrients to thrive. They need these nutrients in very precise amounts throughout the year. If there is an imbalance, it will need to be corrected before a proper feeding regime can resume.
Correct Watering Schedule
Palm trees, like any other tree or plant, need lots of water to thrive. If you have an irrigation or sprinkler system in place, it's important to know the properties of your tap or well water.  This includes knowing the total number of dissolved solids (TDS) and the PH of water.  Palm trees require a specific PH range in the soil in order to properly uptake nutrients. For this reason, it's critical that the Ph of your soil is correct. The most natural way to correct Ph is through the water going into the soil.
Why Choose Malibu Nursery & Landscaping To Care For Your Palm Trees?
It's important to choose wisely when selecting the right professional to care for your palm trees. Not only should your company make sure the trees are trimmed and looking beautiful, but it should have the expertise to diagnose potential diseases, nutrient issues, or pest infestations.
We have provided professional palm tree care in Malibu, California, for many years. It's important to know that the right solutions do not always have instant results, but we've learned over time the best strategies that work in the long term.  Nothing in nature happens quickly when it comes to the health and growth of plants and trees. With Malibu Nursery & Landscaping, you can have confidence that we can get your palm trees on the right track as quickly as possible. We don't want to waste weeks or months offering useless and ineffective solutions. We care about the health of your palms and we want your to be thrilled with the results we deliver.
If you'd like to schedule a consultation and an estimate year-round care for your Palm Trees, call (805) 905-1112. Or, fill out our online form, and we'll get right back to you.