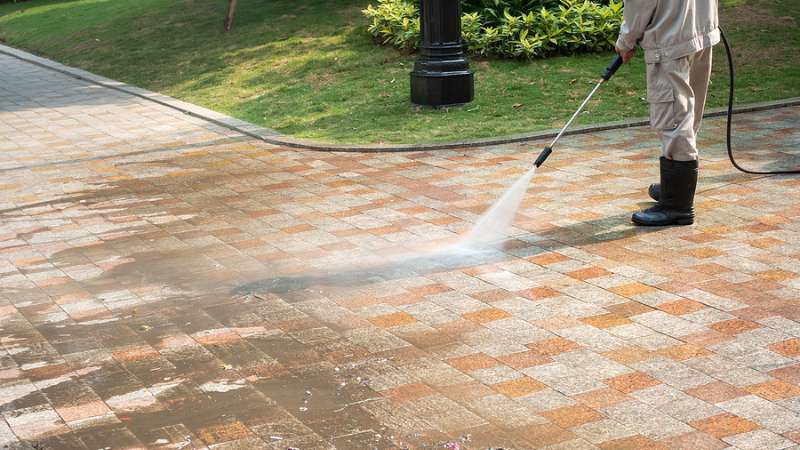 Power Washing, Malibu, CA
Immediately Remove Years of Dirt and Grime to Your Property's Exterior
Power washing is a cost effective way to immediately remove years of dirt and grime from the exterior surfaces of your property including concrete, pavers, brick, natural stone, wood, metal, vinyl, fiber cement, and more. If you're thinking about having your exterior power washed, it's important to choose a company that has the proper equipment to clean your surfaces safely.
Malibu Nursery & Landscaping is a landscape maintenance and power washing company in Malibu, CA, also serving the surrounding areas of Calabasas, Agoura Hills, and Westlake Village. We provide power washing and soft washing exterior surfaces. Whether you'd like to wash a concrete driveway, a concrete paver driveway, or the exterior of your home or building, our experienced technicians will use our mobile power washing and soft washing equipment to have your surfaces looking new again.
What's The Difference Between Power Washing and Soft Washing?
Power washing, also known as pressure washing, is great for extremely dirty, hard exterior surfaces that would not be damaged by the high-pressure stream of water. Surfaces such as concrete, brick, pavers, and metal are good candidates for a power wash.
Soft washing is the practice of using a low-pressure, but high-volume stream of water to clean more delicate surfaces that would be prone to damage from a high pressure blast of water. Surfaces such as asphalt, shingle roofing, vinyl siding, wood siding, and fiber cement siding are good candidates for soft washing as the soft wash process will gently clean the surface without causing damage.
Power Washing Services We Offer:
Mobile Power Washing
Power Washing Driveways (concrete, brick, pavers)
Power Washing Sidewalks
Power Washing Vinyl Siding
Power Washing Metal Siding
Soft wash House Washing
Building Exterior Washing
Contaminants We Can Remove:
Dirt and Grime
Pollen and tree saps
Bird droppings
Rust stains (please ask for details)
Oil stains (please ask for details)
Mold, algae, and mildew
Soot
and more!
Commercial & Business Power Washing & Exterior Cleaning Services:
Concrete washing and cleaning
Exterior Hard Surface Cleaning
Restaurant patio cleaning
Driveway and parking area cleaning
Sidewalk and walkway cleaning
Cleaning building exteriors
Concrete curb cleaning
Fleet and equipment cleaning
Why Should You Power Wash Your Home or Building Exterior Surfaces?
Exterior surfaces are constantly exposed to nature's harsh elements. Mold and mildew spores, algae, pollen, tree sap, bird droppings, and other pollutants blow through the air and attach to the siding and other surfaces of your home or business.
Over time, dirt and grime build up, and mold, mildew and algae begin to fester and grow. We often see the most build up on the north sides of buildings, fascia and soffits, or any other area that stays wet longer and sees little sunshine. Patios, sidewalks, driveways and decks that accumulate water may also see a build up of mold, mildew and algae.
The build up quickly begins to degrade the appearance as well as the integrity of one of your biggest investments.  Left unchecked, mold and mildew can grow deep into your paint and siding and may eventually creep inside.
The good news is having your house or commercial building power washed or soft washed by a professional as periodic maintenance is affordable, safe, and efficient and produces an immediate boost to your property's appearance.
Why Choose Malibu Nursery & Landscaping For Your Power Washing Needs?
When it comes to choosing a company to clean your exterior surfaces in the Malibu, CA area, it's important to select a local company with professional grade equipment who cares about your property. When you choose Malibu Nursery & Landscaping, you're partnering with a proven, locally owned business that has provided exceptional service to the community for many years. Our reliable employees have the knowledge and experience to keep your property looking its absolute best.
We are sufficiently insured for both residential and commercial projects, we have professional grade equipment, environmentally friendly detergents, and we take pride in our work. You can count on us to carefully and safely clean your surfaces.
If you'd like an estimate for power washing, please call (805) 905-1112. Or,  fill out our online contact form, and we'll get right back to you.