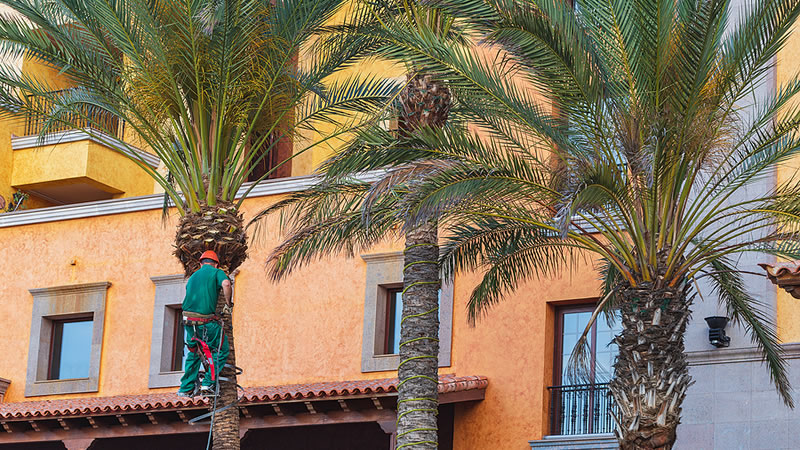 Tree Trimming Services in Malibu California
We keep your trees healthy with proper trimming and limbing.
If you have large trees on your property that need to be trimmed or limbed, you'll most likely need a skilled tree service professional. A skilled arborist will correctly remove dead limbs from mature trees, address pest control issues and aesthetically shape your trees.
Malibu Nursery & Landscaping  is a full service landscape maintenance contractor in Malibu, CA, also serving the surrounding areas of Calabasas, Agoura Hills, and Westlake Village. We specialize in trimming and limbing trees of all sizes including Red Woods, Palm Trees, Sycamores, Cottonwoods, and many other types of trees in California.  Our skilled arborists will evaluate your trees and surrounding landscape and determine the best plan to trim and shape your trees. If a tree is posing a danger to your property or structure, we can provide tree removal service.
Tree Trimming:  If you have trees that are overgrown and unkept, we can trim them back into a manageable state. Properly trimmed trees will look better, grow healthier and prolong their life. Keeping your trees trimmed so they don't touch the home can reduce rodents and insects from entering the structure.
Tree Limbing:  Cutting off the lower branches that might be obstructing light, driveways, lawn, and garden areas helps maintain your property.  One of our skilled arborists can evaluate your property and guide you on which trees should be limbed and how much should be removed.  For properties with many heavy trees, limbing up the trees opens things up and achieves a "park-like" feel to your property.
Tree Removal:  We can safely remove trees that are close to your structure or trees that are dead, dying, or that no longer fit into your landscape plan. This is also necessary if a tree is damaged or poses a danger to your structure or to people.
Why Malibu Nursery & Landscaping For Your Tree Trimming Needs?
When you select Malibu Nursery & Landscaping for your tree trimming projects in the Malibu area, you're choosing to work with a team of skilled professionals. We are eager to share our knowledge with you.
We can address your tree problems and come up with a viable solution that fits with your overall landscape goals. Our crews are professional, knowledgeable and will leave your property in top condition. After our work is complete, we make sure to clean up properly. Aside from your completed tree work, you'll never know we were on your property.
If you'd like to receive an estimate from Malibu Nursery & Landscaping for your next tree trimming, tree limbing or tree removal project, please call (805) 905-1112. Or, fill out our contact form, and we'll get right back to you.