Sod vs Seed: 6 Healthy New Lawn Tips
When it comes to installing a new lawn, sod vs seed is an important decision. It's a common question we often answer as landscapers in Malibu, CA. Whether you're installing a new lawn for the first time, or you're looking to renovate an old lawn, we've outlined some tips to help you make the best choice for the perfect lawn.
Regardless of the project, you may find yourself confused as to whether you should use new grass seeds or new sod for the green lawn of your dreams. Do you want the instant gratification of a sod lawn? Or, are you interested in planting seeds and waiting for a lush, green lawn?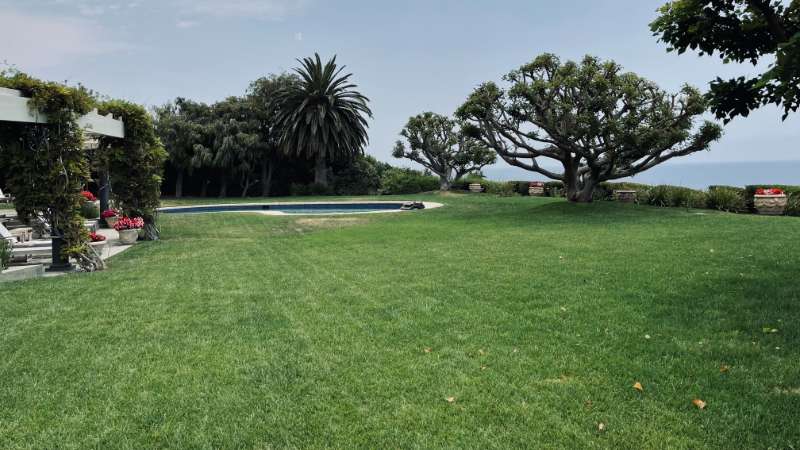 The Difference Between Sod vs Seed
When weighing the pros and cons of sod vs seed, the first step is to understand the difference between the two.
What is sod?
One of the main considerations of sod vs seed is timing. With sod, you get an instant lawn. You install mature grass that a sod farmer has professionally maintained. As a landscaping contractor, we obtain the finished product from the sod grower and transplant it to the area of your choice. 
Sod is the best way quickly cover larger areas with an entire lawn that has an established root system.
What is seed?
The other option is to plant new seed. Once the seeded area goes through the germination process, it will eventually grow into healthy grass. When thinking about sod vs seed, remember the installation of seed requires some important things to get the best results.
It's not as simple as throwing some seed on the ground and waiting for your lush lawn to grow in. A beautifully seeded lawn is possible, it just takes special care and consideration. 
First, seeding requires proper initial soil preparation and level grading. Second, if you're looking to plant seeds in an expansive area, you may wish to consider hiring a professional. Covering large areas with seed is labor intensive, so it's a big undertaking. Third, you need to have the proper equipment.
Here are some examples of items you'll need:
Finally, you need to plant seeds at the right time of the year to give them a stronger root system and the best chance of growing into a healthy lawn.
Cost of Sod vs Seed
When deciding between sod vs seed, cost is one of the main considerations. Sod is the more expensive option because it has been professionally maintained for a specific length of time, and it usually requires professional installation. If you want a lush lawn, with no bare spots, and you don't have much time, then sod is the better option.
With its lower initial cost, grass seed can be a great option if you have time and patience. The price of even the highest quality seed mix is much less than the price of any type of sod. If you're looking to install a new lawn for an average lower cost, and you don't need a new lawn quickly, seed may be a good choice.
Time Frames of Sod vs Seed  
Another major factor in the decision-making process of sod vs seed is the amount of time and effort it takes to grow and maintain your new grass. Sod allows you to transform plain dirt to lush grass in a day or so depending on the size of the area. 
While spring and fall are ideal times to lay sod, you can lay sod any time of year as long as water is available. Speed of rooting varies with each season, and rooting is crucial to the sod's health and longevity.  Even with adequate water, sod may not root as well during extreme temperatures.
Early fall is the optimal growing season for seed. Obviously, it takes longer to grow a lush, dense lawn from seed. If you have ample time to take care of a newly seeded lawn and can wait until the optimum growing season, seed may be worth considering.
It's important to consider the best time of year for planting in Southern California and Los Angeles. Remember, growing grass from seed requires a significant amount of time and attention, as well as continuous watering. Plus, you must keep people and pets off newly growing grass. 
Weeds
When considering sod vs seed, sod is virtually a weed free option. This is because its professionally cultivated to be weed-free.
This isn't to say that sod will never get weeds. Without a proper weed control program in place, you will eventually see weeds. But, when you initially lay the sod down, it will be weed free. In contrast, grass seed is more unpredictable when it comes to weeds growing.
Variety
Understanding the environment on your property is important when deciding between sod vs seed. With seed, there are more varieties of grass to choose from, as only certain kinds of grass are grown on sod farms.
In some instances, a specific variety of grass is not available from local sod farms. Therefore, if you must customize your lawn to a particular environment, seeding with a specific type of grass might be your best option.
However, if you're planning to place new grass in an erosion-prone or sloped area, sod may be the best choice. Seed may struggle to survive in these types of areas. 
Quality
Some lawn care experts will say that sod creates the best lawn. Others say that seed is the optimum way to establish a dense, green lawn, even though it is the slower option. At Malibu Nursery & Landscaping, we believe the best choice between sod vs seed depends on your property, your time frame, and the quality of workmanship.
A strong root system is essential for a healthy lawn. Once transplanted, sod must take root again in a new environment. When installed properly, this is a not an issue. However, when installed poorly or without proper care, sod does not develop a healthy root system and does not thrive.
Seeding has its frustrations as well. Re-seeding may be necessary if germination does not occur in bare spots. Plus, seed can be washed away by rain, eaten by birds, or damaged by foot traffic.
A Word About Soil
Whether you choose seed or sod, it's important to understand that soil is a vital component of a thriving lawn. This is because a strong root system is essential to the development of a healthy, robust lawn. For this reason, investing in a high quality soil and devoting some time and effort to soil preparation almost always increases your odds of success.
To conclude, you'll need to weigh the advantages and disadvantages to each option when evaluating sod vs seed. Your decision is ultimately a matter of personal preference and budget. With the appropriate amount of time and effort, a lush, beautiful new lawn can be yours with either sod or seed.
Ready To Install A New Lawn On Your Malibu, CA Property?
Malibu Nursery & Landscaping is a landscaping contractor serving Malibu, CA, and the surrounding areas of Calabasas, Agoura Hills, Westlake Village. We specialize in installing new lawns using seed or sod.  We properly grade your property, install drainage, install irrigation if needed, and install your new lawn.
If you'd like to schedule an estimate for your new lawn please call 805-905-1112. Or, fill out the contact form, and we'll get back to you right away.