Hiring A Landscape Maintenance Company In Malibu, CA: 9 Most Important Questions
Hiring A Landscape Maintenance Company In Malibu, CA
Are you hiring a landscape maintenance company to take care of your residential or commercial property care needs? There are many things to consider when selecting the right landscaping company. If you're looking for the highest level of landscaping services and attention to detail, you don't want to choose a company because it has a lower price. It's a good idea to take the time to find a team of professionals who is a good fit for you and takes pride in their quality work.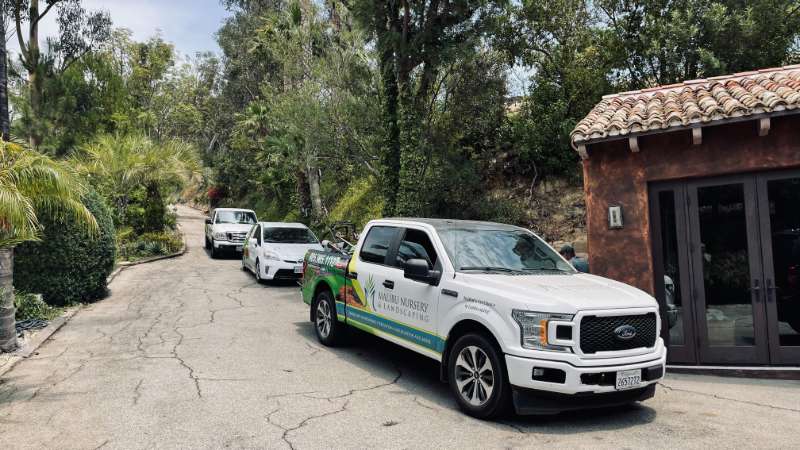 Here are 9 questions ask as part of your due diligence when choosing a professional landscaping company.
1. Why Are You Hiring A Landscape Maintenance Company?
As a property owner, you probably have many reasons why you need landscape services. You might be looking for a professional landscaper to complete a specific type of project. Or, you want a landscape maintenance team that offers a wide range of services. In any case, it's helpful to think about exactly why you're looking for a landscaping company.
Are you unhappy with your existing landscape provider?
Is your existing maintenance contract ending and do you want a change?
Have you installed a new landscape and want a team with expert knowledge to take care of it?
Do you have a property that has been neglected for a long time and needs restoring?
Are you looking to list and sell your property in the near future?
Defining why you need a landscape maintenance company can help guide you in deciding which service provider is a good fit for you. The important thing to remember is that the right company is more than just someone to take care of the lawn. It's a company with an experienced staff who understands they are improving the value of your property and your home's curb appeal.
Your property is unique. Whether you have many landscape enhancements or simple landscape features, you need a landscaping team that can come up with an effective plan to always keep your property looking its best.
2. Does The Landscaper Have Proper Insurance?
There are many so-called landscapers with a pickup truck and a few tools who are willing to "care" for your property. But, that doesn't mean they are professional landscapers. It certainly doesn't protect your property, or its residents, if the landscaper is uninsured. That's why it's a good idea to make sure your landscape maintenance contractor has adequate insurance coverage. Here are just a few reasons why:
What if they back up a trailer into your building or another car?
What if their trimmer sends a rock through one of your windows?
What if they have an accident that hurts someone on-site?
It's not worth the risk to have an uninsured landscaper caring for your property.
3. Do They Use Professional Landscaping Equipment?
For a high quality landscape and beautiful lawn, you need a credible professional with professional-grade equipment. In addition, your landscape provider must have knowledgeable, experienced team members to operate that equipment. Commercial grade lawn mowers, trimmers, and blowers provide the best results and are designed for the rigorous use of professional landscape maintenance crews.
Homeowner-grade equipment does not yield the highest quality result and has a greater chance of breaking down. As a result, your property's appearance suffers. Professional grade landscape equipment includes:
Commercial grade lawnmowers.
Commercial grade lawn trimmers.
Blowers to clear debris from hard surfaces and out of mulch beds.
Commercial grade hedge trimmers to keep trees and hedges properly shaped.
A dumping trailer to remove large amounts of green waste in single trips.
4. Do They Provide Detailed Monthly Service Plans?
Your property care requirements aren't the same each and every month. Requirements can change with the seasons and weather conditions. For large properties with intricate landscapes, it's important that the landscape maintenance company provide a detailed monthly plan for all necessary work to keep the property looking its best. Professional landscape providers will be able to anticipate what your particular property will need on a monthly basis according to the time of year.
5. Does The Landscape Company Offer Tree, Hedge & Shrub Care?
Trees, hedges, and shrubs are an integral part of most large landscapes. If not maintained properly, they can become unhealthy and detract from the overall appearance of the property. Unkept bushes and shrubs next to your building can cause damage, pest problems and may reduce security.
Different species of trees, hedges, and shrubs require varying levels of care. Horticultural knowledge of local trees and shrubs is also important. A large privacy hedge may need trimming once or twice per year. Faster growing shrubs and decorative bushes might need reshaping every month.
Make sure your landscape provider includes the trimming of trees, hedges, and shrubs in their proposal. Check that the services to be provided will be adequate for your property.
How often do they trim?
Do they provide shaping services?
Do they remove all the trimmings?
6. Do They Offer Mulch Bed Care?
To keep your landscape looking its best, mulch beds require regular care. Services such as seasonal plantings, weeding, deadheading blooms, annual replanting of perennials, transplanting plants, soil spreading, edging, and mulch installation ensure a well-maintained, uniform appearance. Well-cared-for mulch beds improve your property's curb appeal and the well-being of your landscape.
7. What Type of Lawn Care & Lawn Mowing Services Do They Offer?
Lawn care encompasses much more than just regular mowing. In addition to weekly mowing, lawns need to be fertilized, aerated, and regular weed removal. While every property's lawn requirements are different, your landscape company should provide a detailed monthly plan on how they will care for your lawn.
Do they provide seasonal fertilizing?
Do they aerate the lawn?
Do they maintain the irrigation or sprinkler system?
Do they mow with professional equipment?
Do they include blowing off hard surfaces?
What is their policy when it rains?
Answers to these questions will help ensure your lawn gets the right care to stay beautiful, healthy, and vibrant.
8. Can They Perform Landscape Restoration?
Your property may require restoration due to inclement weather, neglect, or sub-par care over a long period of time. Restoration services may include lawn remediation, grading of soil, establishing new edges around garden beds or tree wells, repairing or maintaining irrigation and sprinkler systems, installing new soil or mulch into garden beds, and more. If your property needs extra attention to bring it to its best condition, it's important to make sure your landscape company is equipped to handle these projects.
9. What Happens After High Winds, Storms, or Fires?
The effects of high winds, storms, and fires are a reality in Malibu, CA. Without the right plan of action, your property's landscape may be disrupted or possibly destroyed in the event of a storm or unexpected disaster. It's important to ask your landscaping contractor how they respond during these situations.
Do they come out right away?
What is the expected time frame for them to get to your property in the event of widespread damage?
Do they have the ability to take care of damage to your landscape?
Malibu Nursery & Landscaping Provides Professional Landscape Maintenance Throughout Malibu, CA
Malibu Nursery & Landscaping is a full-service landscape maintenance company serving properties in Malibu, CA, and the surrounding areas of Calabasas, Agoura Hills, and Westlake Village. We provide landscape maintenance services for residential properties, residential estates, condos, townhomes, and commercial properties. We provide customized maintenance plans to keep our clients' properties looking their best.
If you'd like an on-site consultation for landscape maintenance, please call 805-905-1112. Or, fill out our online form, and we'll get right back to you.