Drought Tolerant Landscaping or Xeriscaping for Efficient Water Use
Drought tolerant landscaping, drought resistant landscaping, also known as Xeriscaping, is a quickly emerging landscaping solution for dry conditions. The need to use less water has long been a concern in Malibu, CA.
In recent years, Southern California property owners and those in the Los Angeles area have continually faced water restrictions during periods of drought.
Incorporating a drought-tolerant landscape plan into your front yard and other areas of your property will help reduce water use and lower maintenance costs. Selecting drought-resistant plants, such as ornamental grasses and other water-wise plant types, will add an explosion of different colors and appealing textures to your space.
In addition, a drought-tolerant garden will always look great regardless of the season with the added benefit of lowering your water bill.
Malibu Nursery & Landscaping is a landscaping contractor serving the Malibu, CA area. We specialize in designing and building drought-resistant landscapes for homeowners, property managers, and commercial property owners.
Whether you're looking to install a drought-resistant landscape for a new construction project, or renovating an existing landscape to thrive in dry weather, our knowledgeable team can create a landscape that thrives in drought conditions. If you're looking to reduce your water usage, you've come to the right place.
Drought Resistant Landscaping Malibu, CA
Low Maintenance Landscaping
Rock Landscaping Features
Flagstone and Paver Patios
Drought-Tolerant Plants
Drought Resistant Grasses
Drought Resistant Shrubs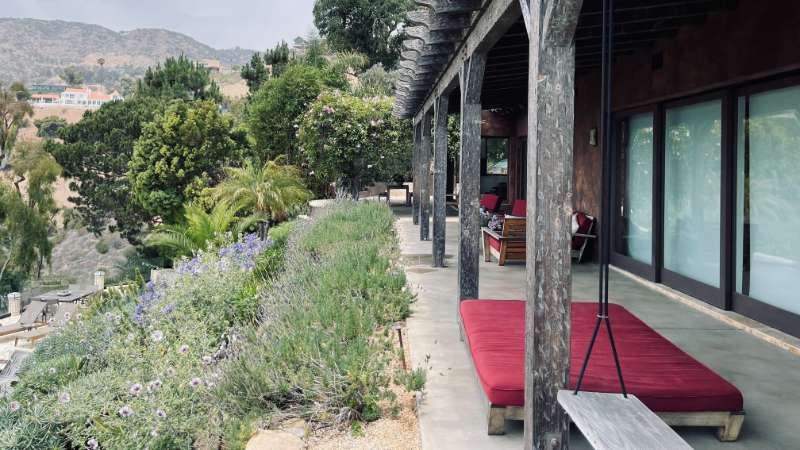 One of the keys to a drought-tolerant landscape that always stays in good condition is in choosing the right plants for the local ecosystem. You want to incorporate the types of plants that are native to your area and thrive in local weather conditions.
You want to select plants that match your outdoor decor and aesthetic appeal. To gather ideas, visit your local nursery or drive through your neighborhood to find a good example of the aesthetic that appeals to you.
With native plants, trees, and shrubs that grow well in arid conditions, you'll always have healthy plants that you can enjoy for years to come. In addition, your landscape won't suffer during a long dry spell.
There are a variety of ways to incorporate drought tolerant landscaping into your property. While a professional landscape designer can determine the best choices for your property, here are a few dry landscape ideas that are popular in Malibu, CA.
Rock Gardens In Drought Tolerant Landscaping Are Visually Appealing
The addition of a rock garden adds visual appeal and promotes water conservation. Depending on the square feet of your property, landscaping with rock and/or boulders is a great way to have minimal irrigation. Aside from cleaning every year, rocks and boulders require little maintenance.
Large boulders and rock walls are a great choice as focal points. Not to mention they last a long time and won't need replacing in the future. Rock walls and outdoor rock fireplaces enhance water-wise plants throughout your property.
Hardscape features using rock and other natural resources help maximize the space, whether your want to relax in a hot tub, or simply enjoy the outdoor atmosphere.
Instead of a flower bed, think about adding gravel beds using pea gravel, pebbles, crushed rock, or another attractive stone. These areas are often lined with landscape ties or dotted with colorful drought-resistant shrubs and trees.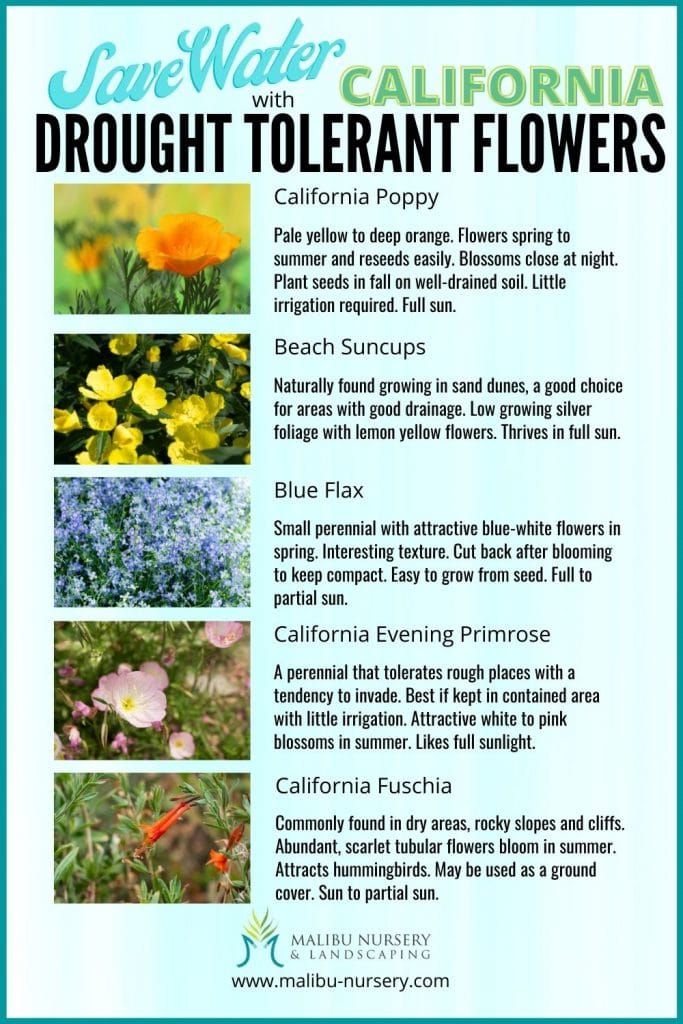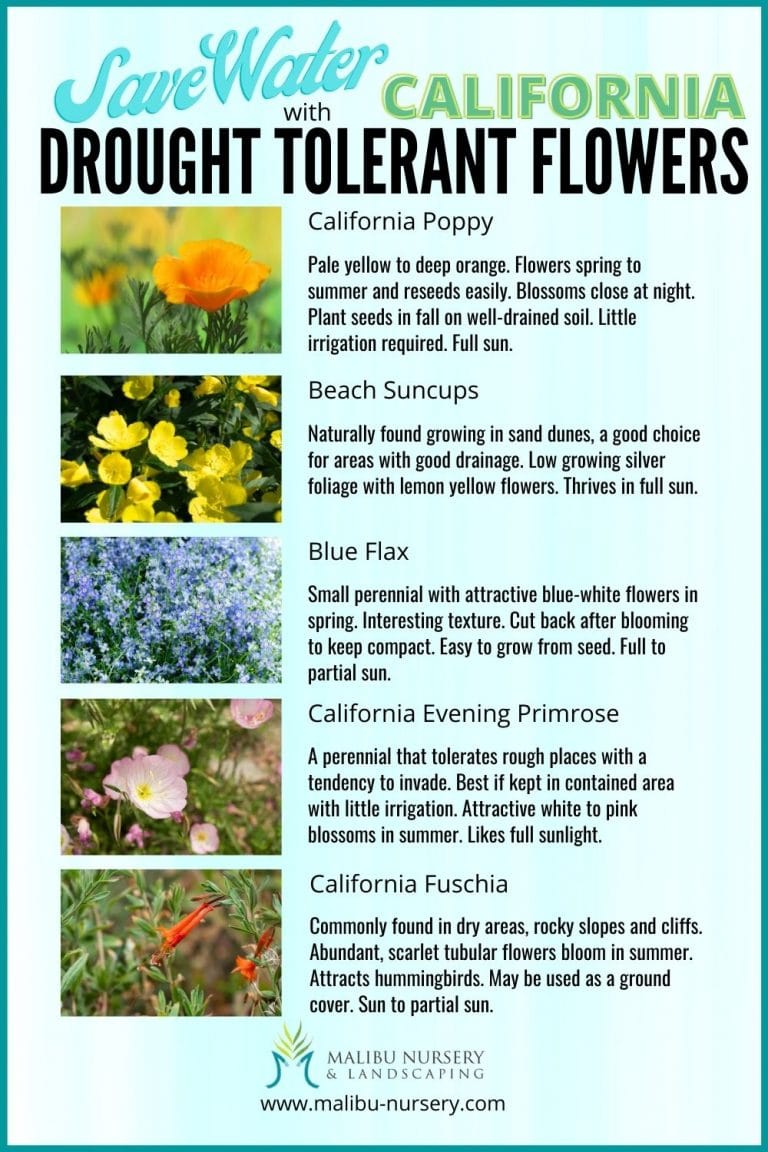 Native Grass or Artificial Grass in Drought Tolerant Landscaping
Thirsty lawns use a lot of water to keep them green. In fact, natural grass is the largest consumer of water out of all the plants in your landscape. When drought conditions exist, water retention efforts become even more important.
Drought-tolerant grasses and artificial grass alternatives can keep your property looking vibrant in the midst of a variety of drought conditions. Replacing a traditional, natural grass lawn with drought-tolerant grass, groundcover, or artificial turf, is one of the best ways to control how much water you consume.
With some prep work and a visit to your local gardening center, you can create your own drought tolerant outdoor space.
The following types of drought resistant grasses work well in Southern California:
Zoysia grass
Bermuda grass
Seashore paspalum
St. Augustine grass
Kikuyu grass
Tall and Red fescues
Kentucky Bluegrass
Ryegrass
Several Bentgrass species
Buffalo grass
Depending on the size of the area, there are great alternatives to a grass lawn. Examples include expanding a patio or defining spaces using river rock, wood chips, pea gravel, or other ground cover.
River rock has great uses in drought tolerant landscapes.
For planted areas, the addition of a drip irrigation system will promote minimal water usage and prevent water waste.
Drought Tolerant Plants Are Plentiful
The idea behind drought tolerant landscaping is to choose native plants, trees, and shrubs that require a little amount of water to survive and thrive. Even so, drought-resistant gardens and landscapes are anything but boring.
There is an abundance of colorful plant choices that require little water and come in a variety of textures and colors. You can find drought-tolerant plants in reds, yellows, greens, purples, and many other colors.
Incorporating water-wise plants into your landscape does not mean you will sacrifice beauty and color. When it comes to drought tolerance, there is no shortage of plant and flower options available. By taking the time to learn about native plants of California, you can choose the right plants that are most likely to thrive.
For inspiration in creating a drought-resistant landscape, here are some helpful books:
Do You Need Help Designing And Building Your Drought Tolerant Landscape At Your Malibu, CA Property?
Malibu Nursery & Landscaping is a full-service landscaping contractor serving Malibu, CA, and the surrounding areas of Calabasas, Agoura Hills, and Westlake Village. We specialize in building drought tolerant and low maintenance landscapes and gardens for our residential and commercial clients. If you're ready to take the next step towards a water-wise landscape, our in-house team can offer the professional advice you need to get started right away.
If you'd like to schedule a consultation to discuss your new landscape design ideas, we'd be happy to meet with you.  Please call 805-905-1112. Or, fill out our online form, and we'll get right back to you.